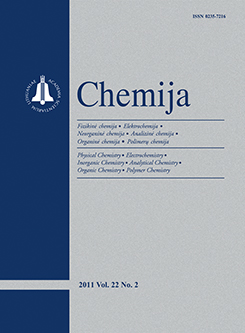 ISSN 0235-7216
ISSN 2424-4538 (online)


2017 m. Nr. 3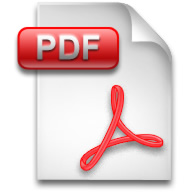 Investigation of the impact of organic and inorganic halides on the ageing stability of paper with iron gall ink
Degradation of cellulose in historic manuscripts with iron gall ink leads our heritage to deterioration. Direct aqueous or non-aqueous methods of treatment, which are often used in practice, can damage the authenticity of documents. Therefore, other methods without any wet curative procedures during treatment are in great request.
The aim of this work was to evaluate the efficiency of interleaving treatments performed with interleaves containing organic (tetrabuthylammonium bromide and 1-ethyl-3-methylimidazolium bromide) and inorganic (KI and KBr) halide salts on the stability of paper with iron gall ink during ageing. The effect of interleaving was compared with 1) the efficiency of direct treatment of samples and 2) the established conservation procedure – calcium phytate/calcium hydrocarbonate treatment.
To evaluate the stabilization effect of different compounds and the efficiency of particular conservation technique measurements of the polymerization degree (viscosimetry, size exclusion chromatography – SEC) and pH were performed before and after accelerated ageing. Colour change in paper samples was determined by reflection measurement using an integrating sphere with a halogen light source. The condition of paper fibers was studied using optical microscopy and scanning electron
microscopy (SEM).
The tentative results demonstrate that the effective stabilization of paper containing iron gall ink during ageing may successfully be achieved by interleaving using alkaline paper impregnated with KBr.


Keywords: paper, iron gall ink, ageing, stabilization, antioxidants, degradation, deacidification
Issues:
2017 - Vol.28
No. 1, No. 2, No. 3, No. 4
2016 - Vol.27
No. 1, No. 2, No. 3, No. 4
2015 - Vol.26
No. 1, No. 2, No. 3, No. 4
2014 - Vol.25
No. 1, No. 2, No. 3, No. 4
2013 - Vol.24
No. 1, No. 2, No. 3, No. 4
2012 - Vol.23
No. 1, No. 2, No. 3, No. 4
2011 - Vol.22
No. 1, No. 2, No. 3, No. 4
2010 - Vol.21
No. 1, No. 2-4
2009 - Vol.20
No. 1, No. 2, No. 3, No. 4
2008 - Vol.19
No. 1, No. 2, No. 3-4
2007 - Vol.18
No. 1, No. 2, No. 3, No. 4
2006 - Vol.17
No. 1, No. 2-3, No. 4
2005 - Vol.16
No. 1, No. 2, No. 3-4
2004 - Vol.15
No. 1, No. 2, No. 3, No. 4
2003 - Vol.14
No. 1, No. 2, No. 3, No. 4
2002 - Vol.13
No. 1, No. 2, No. 3, No. 4
2001 - Vol.12
No. 1, No. 2, No. 3, No. 4